6. desember 2018 kl. 08:30 - 17:00 Legg til i kalender
Nasjonalbiblioteket Henrik Ibsens gate 110, 0254 Oslo Vis kart

Gratis inngang
Informasjon
The International Image Interoperability Framework (IIIF) is driven by a growing community of the world's leading research libraries and image repositories working together to produce an interoperable technology and community framework for image delivery. Stanford University Libraries is chairing this effort.
The IIIF is anchored by well defined Application Programming Interfaces developed and vetted by an open and rigorous community process. The IIIF community encourages and supports the development of compatible image serving and viewing software that is easy to install and provides a dazzling user experience.
The conference will focus on practical use cases to show the participants how the results of the IIIF-work can influence their work with high quality digital images. The new possibilities for collaboration between several institutions on image objects or collections, will also be discussed.
IIIF-conference and workshops will take place in Oslo in December. The conference is a collaboration between the National Library of Norway and Stanford University Libraries.
Registration for the conference is now closed.
Programme
Morning session
08:30 Coffee and registration
09:00 Welcome remarks by Aslak Sira Myhre, National Librarian of the National Library of Norway
09:15 How libraries can change the human interaction with digital services through cooperation and development of technology
Tom Cramer and Stuart Snydman, Stanford University Library
10:05 Libraries: Past, Present and Future via IIIF
Sara Brumfield; Software engineer. Partner, Brumfield Labs.
10:40 The magic of online maps
Petr Pridal; Klokan Technologies
11:15 How to utilize IIIF when building a national library.
Sonia Wronkowska; on how the polish national library has adapted IIIF when building their new digital library Polona 2.0
11.45-13.00 Lunch
13.00 -17.00 Afternoon sessions
Workshop 1 How to use IIIF-technology on manuscripts.
Lead: Sara Brumfield
Host:  Bente Granerud
IIIF is great for images, but what's particularly good about it for manuscripts?  In this 3 hour workshop we'll cover examples and hands on exercises for annotation, transcription, translation, and reassembly and collation of manuscript images.
Workshop 2 How to use IIIF-technology on image objects
Lead: Matt McGrattan
Host: Arthur Tennøe
The workshop will give participants a general introduction to the possible uses of IIIF for photography and other forms of images. It will show the features of the Mirador-viewer for manipulation and annotation of images. Mcgrattan will present actual projects and uses built on IIIF functionality that will demonstrate how the services, the quality of user experiences, the possible input of metadata from users and other aspects can be developed.
Workshop 3 How to use IIIF-technology on maps
Lead: Petr Pridal
Host: Erling Sandmo
In this workshop on maps and IIIF Petr Pridal from Klokan Technologies demonstrates the power and potential of interoperable image delivery by visually integrating historical map layers  and  utilizing online tools like Georeferencer to assign geographical location to any iiif image.
Workshop 4 How to use IIIF-technology on sheet music
Lead: Sonia Wronkowska
Host: Richard Gjems
The aim of the workshop is to show various possibilities of using IIIF when dealing with sheet music. The overview of the most important projects will outline the main progress direction that finds culmination in innovative IIIF-based MusicLibs platform by SIMSSA project. A few practical tasks will enable participants to understand the basics and usefulness of each presented project and tool.
The complexity of music materials have always been a challenge for all groups of users: musicians, editors, scholars, librarians. Thanks to the encountered difficulties relatively small community dealing with music notation was usually willing to join forces in order to create applicable standards and tools. Four international initiatives contributed significantly to the development of technology facilitating the work with sheet music:
RISM (Répertoire International des Sources Musicales) in the field of cataloging,
MEI (Music Encoding Initiative) in the field of music editing,
MIR (Music Information Retrieval) in the field of musicology,
SIMSSA project (Single Interface for Music Score Searching and Analysis) in the field of digital libraries.
All of them currently utilise state of the art technologies, such as IIIF and ML, in order to create advanced tools dedicated to music materials users.
Music notation knowledge is not required, but beneficial. Please bring your own computer for the workshop if you wish to perform tasks.
Workshop 5 How to utilize IIIF and Artificial Intelligence
Lead: Tom Cramer
Host: Svein Arne Solbakk
Join this workshop to explore the revolutionary potential of applying machine learning and artificial intelligence to the hundreds of millions of images being published on the web via IIIF.  Machine learning techniques are already being used to automate digitization workflows and classify massive collections of imagery, audio and video. Deep neural networks are being used to enable new forms of image research, analysis and visualization.  In this workshop we will discuss how IIIF might enable AI-based applications, and share early experiments.  We hope to use this workshop to build a community of those interested in applying AI IIIF-based collections, and stimulate ideas and collaborations that will carry on beyond the workshops.
Workshop 6 IIIF and museums
Lead: Jeff Stewart
Host: Erik Frisvold Hanssen
This workshop will focus on the extraordinary potential of IIIF to transform the way museums will provide enhanced access to their collections, and transform the patron experience.  Join fellow museum professionals to explore and discuss issues and solutions relevant to IIIF in museums.  Learn about existing IIIF implementations at world-class museums, and the range of IIIF compatible tools being used by museums to enhance the online and in-person patron experience.  Be prepared to exchange ideas and stimulate collaborations between museums in Norway and beyond.
The keynote speakers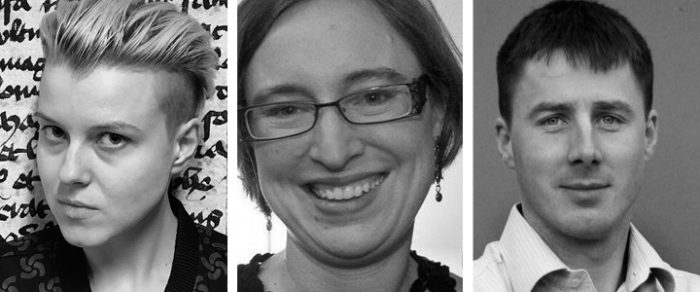 Sonia Wronkowska's background is in musicology, music librarianship and early music editing. She directs Polona Development Unit and is in charge of Polish RISM Centre in the National Library of Poland. Sonia is working on her doctoral dissertation on newly discovered works by Carl Friedrich Abel (1723-1787) and parallelly studying computer science.
Sara Brumfield is a software engineer with a degrees in Computer Science and the Study of Women and Gender from Rice University.  She's half of Brumfield Labs, a digital humanities consultancy.  Prior to working with Brumfield Labs, she sepnt 20+ years working at IBM and assorted startups in a variety of technical roles.  She holds 8 technical patents.
Sara's been involved with IIIF since 2016.  She received a commissioned implementation grant from the IIIF Consortium for PontIIIF, a now defunct IIIF resource search engine and for the IIIF API in FromThPage, Brumfield Labs' Collaborative Transcription Platform.  She's led workshops for the American Art Collaborative, the VRAF, the Boston Library Consortium, and the Texas Conference on Digital Libraries.  She's an active member of the IIIF Outreach group and was on the program committee and a speaker for the 2018 IIIF conference.
Petr Pridal holds a Ph.D. in cartography and geodesy and a master degree in computer science. He is a consultant, researcher, programmer and entrepreneur. He is the founder and CEO of Klokan Technologies, a Swiss/Czech-based company at the frontline of digital mapping.
Klokan is currently developing two main projects which are both of major interest to anyone working with digital maps, cartography, and digital humanities: MapTiler, software for the creation and hosting of zoomable maps based on user images and data, and OldMapsOnline, a gateway to historical maps published by libraries around the world – for viewing online or on a mobile app.